Having a checklist frees your mind to remember and problem solve bigger issues than remembering when you last changed your furnace filter.
In the podcast today, I am sharing the lists I use to keep items checked off my to-do list and off my brain.
Lisa's EVERY Month Checklist
House
Change furnace filter
Wash washer, oven, sink disposal
Wash bathmats
Clean out fridge & freezer
Wash & clean out car
Family Management
Check for birthdays/holidays
15th Reconcile checkbook
Costco paper supplies order
Check primary bathroom products
Order prescriptions
Dog
Dog flea, tick & heartworm meds
Wash dog bowls
Kids
Change kid's sheets
Add money to lunch accounts
Schedule haircuts & eyebrow waxing
Check kid's bathroom products
Update kid's Google calendars
Get kid's grocery lists back to school shopping
Lisa's Yearly Checklist
January
Buy new bath towels?
Pay quarterly taxes
Send annual taxes to accountant
Go through and purge family files
Medical deductible starts over
File 1099's and W2's for employees
February
Buy Florida plane tickets
Real estate taxes due
March
Start looking for summer job
Pool membership due
Sign up for summer programs
Change fire detector batteries
Pour water in basement pipes
Easter
April
Pay quarterly taxes
Mulch
May
Secure summer reading tutor
Prep for Abby's birthday
Mother's Day
Graduations
June
Pour water in basement pipes
Father's Day
July
New glasses for Joey
Pay quarterly taxes
Florida condo fee due
August
First school tuition payment
Real estate taxes due
Back to school shopping
September
Stock up on cold supplies
Clean carpets
Make Thanksgiving & Christmas plans
October
Start holiday lists
Pay quarterly taxes
Change fire detector batteries
Pour water in basement pipes
Buy winter coats/gloves
Move winter items into hall closet
November
Plan spring break
Complete Christmas shopping and entertaining plans
December
Greg life insurance due
Prep for Joey's birthday
Christmas cookies
Family movies days
Out to eat with the family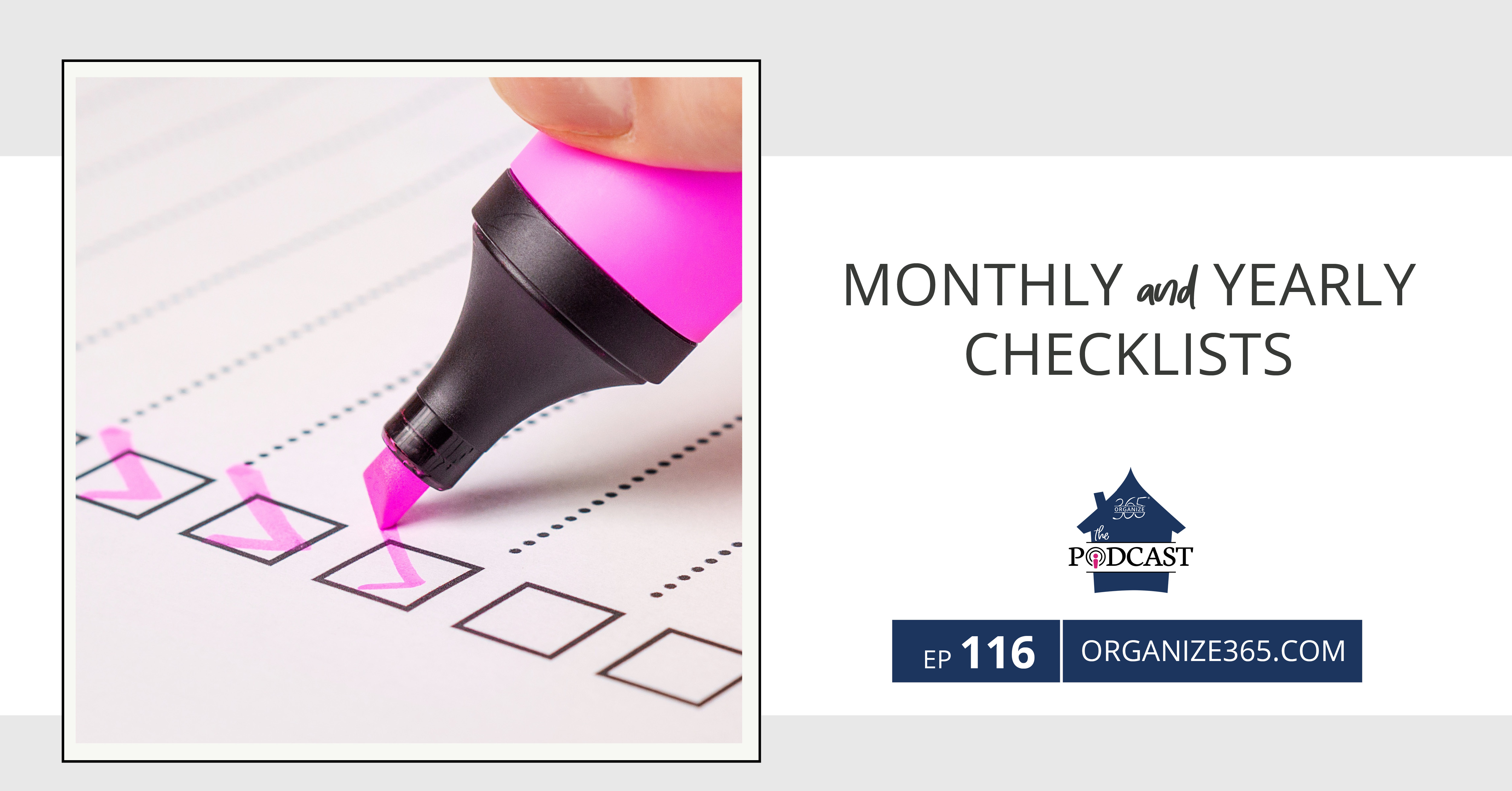 Follow the Organize 365® Podcast in Your Favorite App!